Security Systems In Connecticut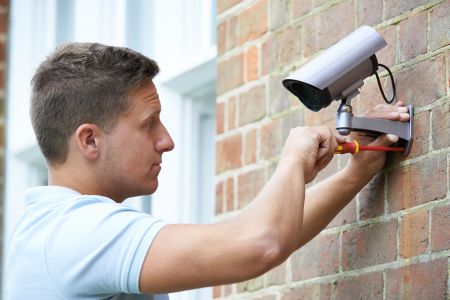 All Systems Electric LLC is the company to trust for security systems in Rocky Hill and surrounding areas. Reliability and service are key factors when having security systems installed for your home or business.
So, we're the reliable electricians to contact when you're ready to get set up with security, intrusion, monitoring, or camera systems. We service and monitor all security systems, and feature Napco and Honeywell security, security camera systems and fire systems along with a wide range of products that they sell.
Intrusion Systems
What surprises consumers, home, and business owners, is the variation in security systems. For instance, there is a difference between standard security systems and intrusion systems.
Many people prefer intrusion systems because they're a great way to be altered of a disturbance with a less invasive system. However, for many people, this may not be a thorough enough level of protection.
Security System Monitoring
The next level is protection for your home or business is monitored security systems. Instead of just getting an alert if there's a disturbance, a monitored system is one in which a professional monitoring system keeps an eye on the system and, once alerted, will contact the appropriate first responders.
This is ideal for businesses during hours they're closed, or homes especially during night hours or times no one is in the house. The peace of mind alone for most people makes this option totally worthwhile.
Camera Systems
Camera systems, or surveillance, is the perfect supplemental addition to an existing security system, or something you could have as a standalone system. Keep an eye on your valuables, merchandise, potential criminals, or even your staff, with this system.
It can help aid in the prevention of theft or act as a witness in the event of a crime or for resulting criminal proceedings. From fire alarm inspections to security systems, our experts take care of it all.
For all of your security systems in the Rocky Hill area, give our team of pros a call for optimal results.
Recent Articles
The Power of Preparedness: The Benefits of Commercial Generators for Businesses
In today's fast-paced business environment, uninterrupted power supply is crucial for the smooth operation of commercial establishments. Power outages can lead to significant financial losses, disruption of services, and a negative impact on customer experience. To mitigate these risks, many businesses are turning to commercial generators. […]
Smoke Detectors Vs Fire Alarms
Savvy homeowner want to be able to protect their household, especially the family members inside. One of the most important ways to be able to do this is safeguarding against fire. What can be confusing for consumers is knowing what the various types of detectors and alarms […]