High-Quality Commercial Kitchen Equipment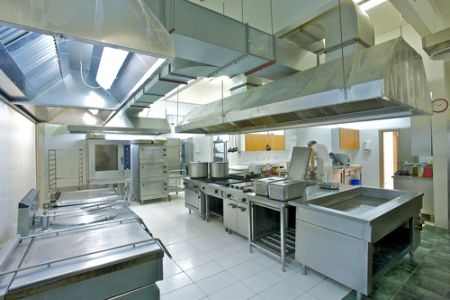 All Systems Electric LLC is the company to trust in for commercial kitchen equipment work in the Rocky Hill area. The importance of keeping things functional for your commercial kitchen cannot be stressed enough.
You need reliable Rocky Hill electricians to take care of the systems and components involved with making up your kitchen. It's nothing to take lightly because the very success of your kitchen and your business could be resting on this.
We have years of experience wiring commercial kitchen equipment and know the importance of keeping this culinary space running smoothly. Don't settle for less than the best when it comes to the work that goes into your commercial business.
Commercial Kitchen Work Keeps Your Business Running
If you're not already aware of the services we'll be taking care of as your Rocky Hill commercial kitchen equipment experts, here are some examples:
Your walk-in coolers and freezers are the backbone of your kitchen. It's vital for you to keep these to the right temperature in order to avoid food code violations and making your customers ill.
Cooking means the risk of fire so fire systems for business operations I a must in this situation. Hardwired fire alarms don't just alert you of a fire, they'll notify the fire department and trigger the sprinkler in order to minimize damage and prevent injury.
Your POS system is critical not only for taking in money but getting the orders to the kitchen - correctly. This is only possible if you have a realize point of sale system in place and fully operational, thanks to proper wiring.
The importance of proper, high-quality lighting for food prep can't be ignored. Above all else, good lighting helps ensure that your cooks are less likely to suffer injuries while cutting and chopping for food prep.
Don't take chances when it comes to your kitchen! Contact us when it comes to your commercial kitchen equipment in Rocky Hill.
Recent Articles
The Power of Preparedness: The Benefits of Commercial Generators for Businesses
In today's fast-paced business environment, uninterrupted power supply is crucial for the smooth operation of commercial establishments. Power outages can lead to significant financial losses, disruption of services, and a negative impact on customer experience. To mitigate these risks, many businesses are turning to commercial generators. […]
Smoke Detectors Vs Fire Alarms
Savvy homeowner want to be able to protect their household, especially the family members inside. One of the most important ways to be able to do this is safeguarding against fire. What can be confusing for consumers is knowing what the various types of detectors and alarms […]