High-Quality Swimming Pool Wiring For Your Home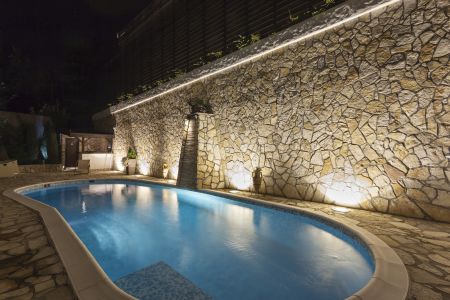 Rocky Hill homeowners rarely think about swimming pool wiring, but it's actually a pretty important aspect of it. Of course, as with any electrical job, safety is the top priority.
This is especially true of any system that combines both water and an electrical system. Obviously, code has to be met, at the very bare minimum, but we feel it's important to go above and beyond.
We want you and your family to be able to use your pool without concern for any safety issues. The well-being of you and your loved ones is our number one priority, so trust our Rocky Hill electricians with your swimming pool wiring project.
How Your Pool Wiring Matters
Wiring swimming pools focuses highly on:
Grounding
Bonding
Ground Fault Protection
Think about the fact that you have a body of water, electrical lighting and heating, then metal components like the ladder. Combining all of these elements can be perfectly safe, or a recipe for disaster.
This is why it's so essential that you have a professional to help with the swimming pool wiring for your Rocky Hill home. The same is true even for your hot tub wiring; safety first!
Some of the responsibility is also on the homeowner and your guests. Make sure to practice safety even when using electronics around the pool, hot tub, or any body of water.
At the very least, of course you should have GFCI outlets in place for using any type of electrical device near the pool. Yet, better safe than sorry, you even want to avoid using your phone which could slip into the water and, at the very least, you'd be out a phone.
Don't take chances. Reach out to our experts immediately if you find yourself in need of an expert to take care of swimming pool wiring for your Rocky Hill or surrounding area home.