Fire Alarm Inspections In Connecticut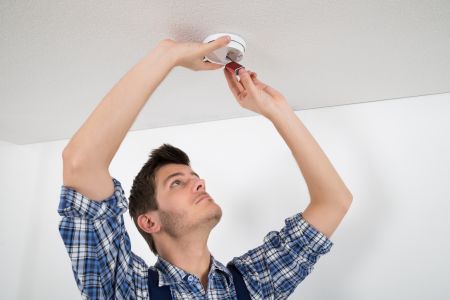 All Systems Electric LLC can perform your fire alarm inspections for you. Most fires are avoidable and the best defense for protecting your Rocky Hill home or business is a fire alarm system.
Having a reliable Rocky Hill electrician to work for you is critical for getting the best results and getting regular inspections ensure your system is working. In fact, depending on the use of your business you may even be required by the Fire Marshal's office to have annual fire alarm inspections performed with documentation to be submitted to their office.
For quality work for the fire alarm inspections for your Rocky Hill home, give our expert team a call. Our years of experience ensure that you get optimal results and keep your system up-to-date.
Fire alarm inspections are important for your Rocky Hill home or business and should not be taken lightly. We have years of expertise performing annual fire alarm inspections for our customers and will submit your report to the Fire Marshal's office so you'll be in compliance.
Even if you're not required to get this type of inspection, you should want to because:
Contrary to popular misconception, these inspections aren't a waste of time. The minimal upfront investment can save you a great deal on emergency repairs, as well as potentially save a life. How can you put a price on that?
This is vital for keeping things running smoothly, especially in situations like keeping commercial kitchen equipment fully functional. So many of these pieces of necessary equipment can lead to hazards or direct issues and not work properly or become fire hazards.
Of course, it's also important to take care of this so that you can make sure everything in your commercial space is up to current code. The last thing that you want is to find out you're at risk of getting fines because you haven't had regular inspections. Plus, you really don't want to end up putting anyone's well-being at risk.
For optimal results from fire alarm inspections in the Rocky Hill area, give our team of experts a call.
Recent Articles
The Power of Preparedness: The Benefits of Commercial Generators for Businesses
In today's fast-paced business environment, uninterrupted power supply is crucial for the smooth operation of commercial establishments. Power outages can lead to significant financial losses, disruption of services, and a negative impact on customer experience. To mitigate these risks, many businesses are turning to commercial generators. […]
Smoke Detectors Vs Fire Alarms
Savvy homeowner want to be able to protect their household, especially the family members inside. One of the most important ways to be able to do this is safeguarding against fire. What can be confusing for consumers is knowing what the various types of detectors and alarms […]